Discover simple and easy Bookkeeping for Small Business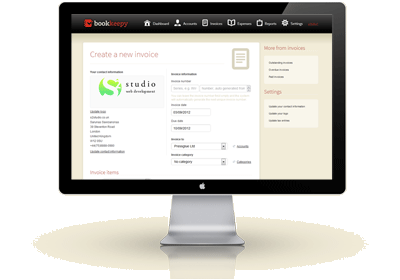 The good and easy way to do Bookkeeping for the Self Employed and Small Business
Are you still using Excel, Word or some office software to manage your clients, create invoices and keep track of your expenses? Or maybe it is an old and complex accounting software which is mostly intended for something completely different from what you need?
Easily manage your clients, invoices and expenses in one place, from anywhere. Keep up with your bookkeeping in the office, at home or on the go with your mobile device.
bookkeepy is a web-based software and all uploaded files are stored "in the cloud". It means there is no software to install. We host it and take care of all the updates so you can focus on your bookkeeping and your business.
You always have access to the latest version of your data and your data is completely safe even if your computer is lost or stolen.
Try it now and see easy bookkeeping for yourself.

No upfront fees. Affordable pricing. No long term contract.